For at least 50 washes while maintaining high visibility (knitwear)
UV protection UPF40+ EN 13758-2
Sun protection (knitwear)
Women's softshell & worker
High visibility workwear for every professional
The workwear stays longer fresh and therefore need to be washed less. Skipping one wash has an environmental impact reduction of approximately 35% (knitwear)
GRS certified recycled polyester & organic cotton
Use of sustainable raw materials
For a higher wearing comfort and freedom of movement (outerwear)
Visible again, time after time. That's what Revisible stands for!
Revisible
Tricorp is introducing an extension to its RWS package, the Revisible collection. A clothing package in a beautiful design and with an improved fit. When developing the new RWS clothing, we looked at trends and useful innovations in workwear. We see that in addition to comfort, safety and appearance, attention to people and the environment during the manufacturing process also plays an important role among professionals and companies.
Sustainable raw materials
The collection is produced with recycled polyester, organic cotton and BCI cotton yarn. All cloths have an Oekotex 100 certificate, meaning that no harmful chemicals have been used.
Organic cotton is grown with extra care for people and the environment. Less harmful pesticide and fertilisers are used and the soil is kept healthy. The cotton has the OCS certificate which shows that it is organic cotton.
Organic cotton is not always available. BCI cotton is also a responsible alternative. BCI cotton is standard cotton, but the farmer is helped to grow the cotton in a more efficient way. With both, extra attention is also paid to the social conditions where the cotton is grown.
Recycled polyester yarn made from PET bottles has less of an environmental impact than standard polyester. The recycled polyester in the RWS Revisible collection is GRS certified according to the Global Recycling Standard.
A fluorocarbon-free (PFC-free) finish has been chosen for the Durable Water Repellent (DWR) finish on the jackets. This puts Tricorp ahead of upcoming legislation banning water-repellent applications with fluorine for non-essential applications.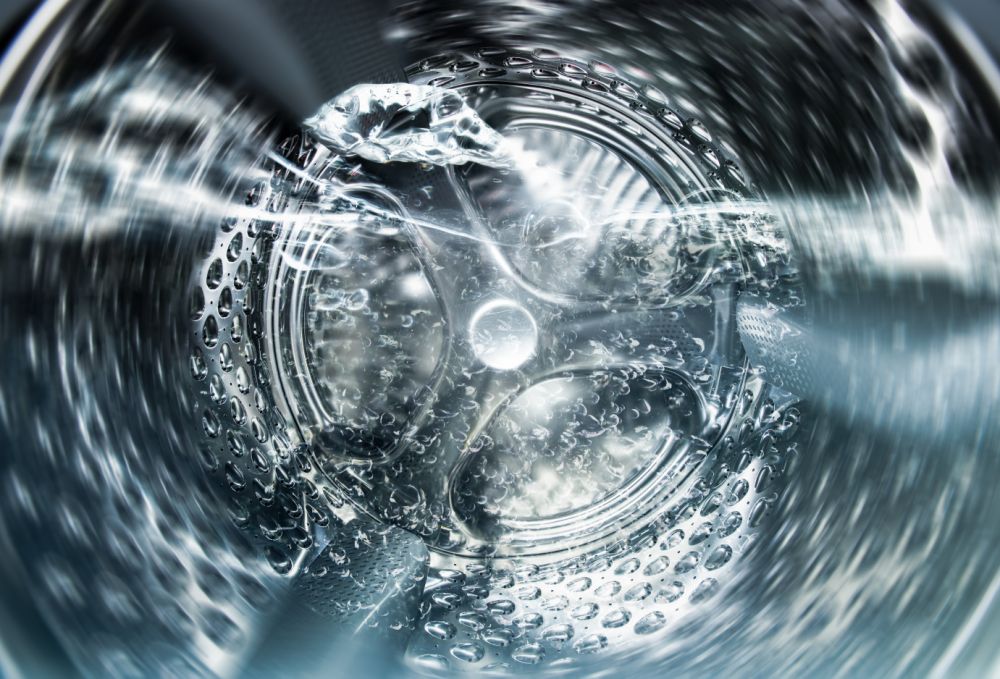 The longer an item lasts, the fewer raw materials are consumed and thus the lower the environmental impact. RWS Revisible focuses on longevity.
The knitwear from this collection can be washed up to 50 times while maintaining standardisation.
Moreover, these items feature Polygiene Stay Fresh® technology, which means the clothes can be worn more often without odour. This is good for the environment as by skipping one wash you reduce the environmental impact by around 33%. That's how we work together for a cleaner environment.
The RWS Revisible collection has segmented reflective striping. It is extremely comfortable to wear because the striping moves with your body. The garment lasts longer because there is no loose stitching.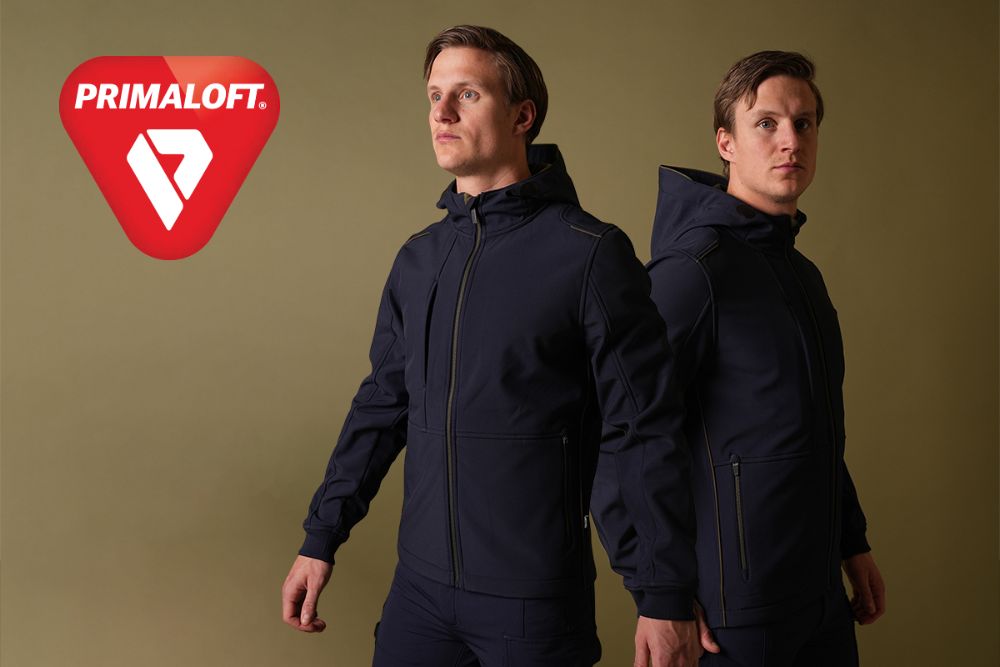 Tricorp is a member of the Fair Wear Foundation. The foundation monitors whether Tricorp and its suppliers continuously improve working conditions in the factories where the clothes are made. Factory workers have the right to organise themselves, to reasonable working hours, fair pay and safe working conditions.
At Tricorp, we want to continuously reduce our environmental impact. Therefore, we use the bAwear LCA tool to calculate how much water and energy was consumed and how much CO2 was emitted to make the item. This gives us insight and we know where we can improve.
Every RWS Revisible article is given a label with a QR code. Product information can be retrieved using this code.
Worn clothing can be collected by Gaia Circular. Together with them and other industry partners, we are exploring end-of-life solutions for this RWS package.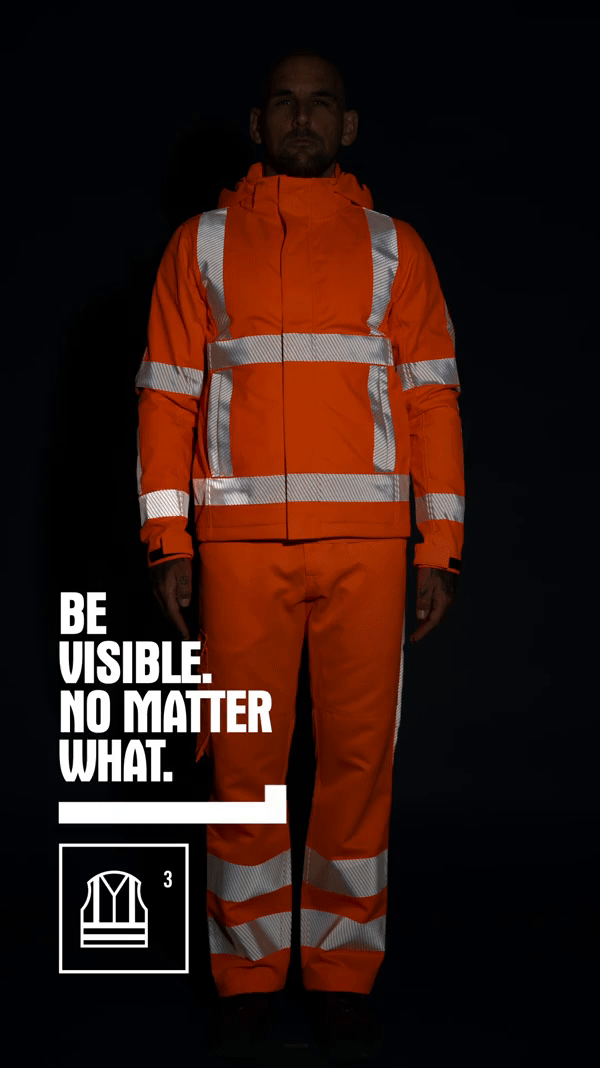 High-visibility clothing must comply with the European standard for high-visibility clothing, EN ISO 20471. This standard is divided into classes depending on the degree of visibility/reflectivity.
All items from the Revisible collection are certified in accordance with EN ISO 20471.
| | |
| --- | --- |
| 103701 T-shirt RWS Revisible | ISO20471 class 2 |
| 203701 Poloshirt RWS Revisible | ISO20471 class 2 |
| 303701 Zip Sweater RWS Revisible | ISO20471 class 2 |
| 303702 Sweater RWS Revisible | ISO20471 class 2 |
| 403701 Softshell RWS Revisible | ISO20471 class 3 (size XS class 2) |
| 403702 Softshell RWS Revisible Dames | ISO20471 class 3 (size XS class 2) |
| 403703 Parka RWS Revisible | ISO20471 class 3 |
| 503701 Work trousers Twill Stretch RWS Revisible | ISO20471 class 2 |
| 503702 Work trousers Twill Stretch RWS Revisible Women | ISO20471 class 1 |
In combination with the work trousers, all garments meet ISO 20471 class 3 in accordance with the requirements set by RWS.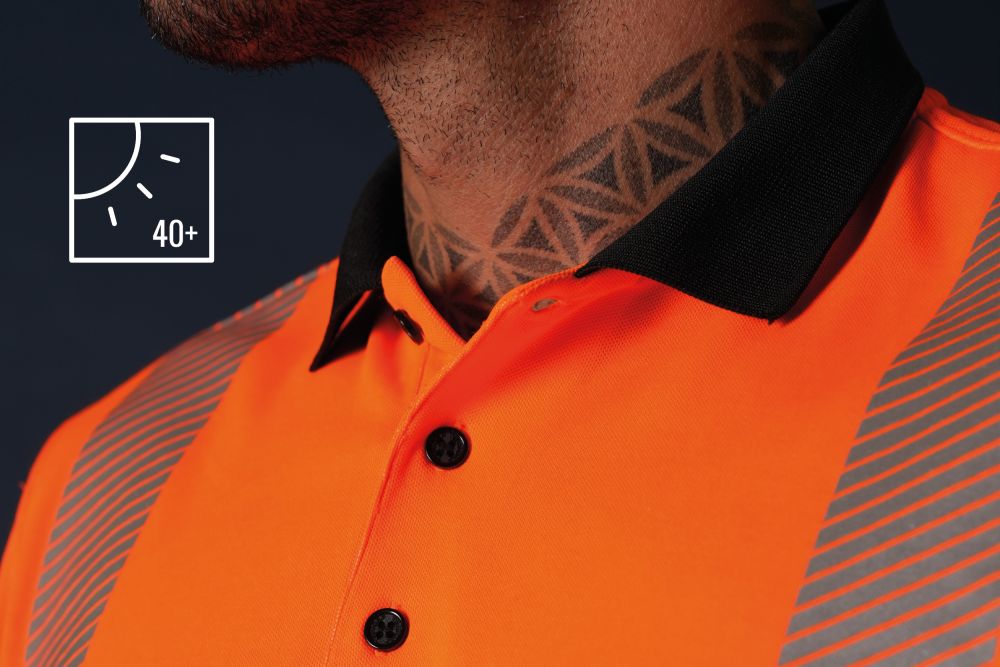 Sun protection with UPF 40+ EN 13785-2
When you work outside a lot, it is important to wear sun-protective workwear. Unlike regular workwear, this clothing is UV-resistant. Sun-protective workwear, like sunscreen, is available in different factors. The lowest factor (low protection) is 2, which lets through 50% of UV radiation and therefore blocks 50% of UV radiation. The highest factor (excellent protection) is 40+, which blocks more than 98% of UV radiation, thus allowing less than 2% of UV radiation to pass through. With a factor of 40+, the transmission of UV radiation is so small that it has no adverse effects on the skin.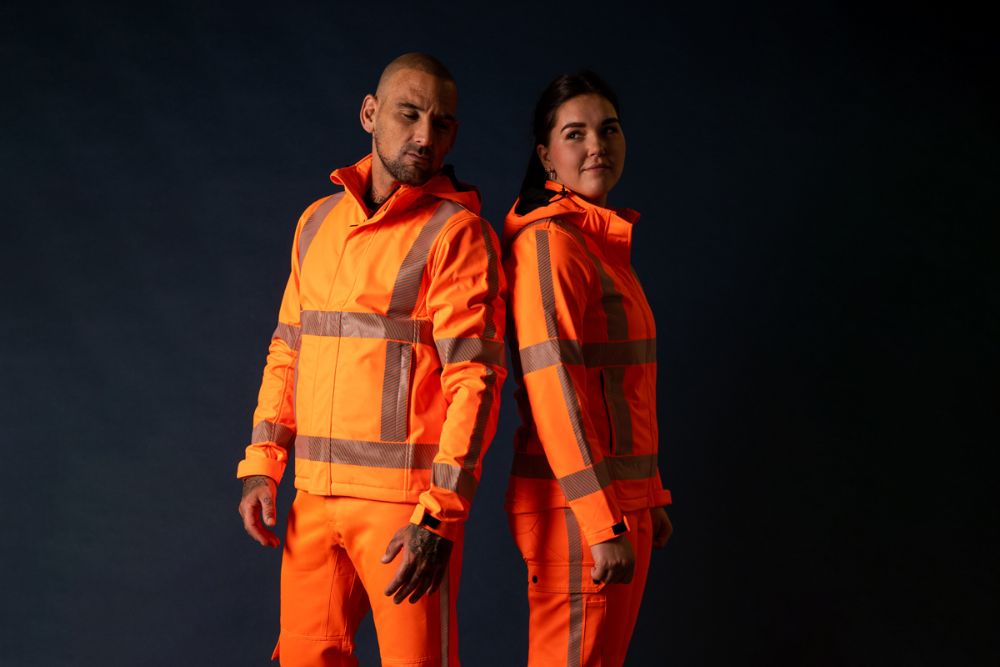 We think it is important to provide every professional with the right workwear. With the introduction of this new collection, Tricorp now also offers high-visibility workwear for women. The work trousers and softshell will soon also be available in a women's version.
Shop Revisible collection